How to Contribute and Participate
How to navigate Community

When you first log into Community, you'll be brought to the home page. From there, you can navigate to your profile, connect with your swim friends, and join in on the conversation in any of the forums. To return to the home page of Community at any time, just click the Community logo in the header.

How to search Community for my swim friends

USMS members will be added to Community automatically upon registration. Prior to members completing their user profile, their display name will be displayed as their USMS permanent ID. You can use the search bar at the top of the page to type in their full name or permanent ID.

More information on connecting with your swim friends can be found in "How to manage my friends and private messages"
How to search Community for a topic

Using the search bar at the top of the page, enter your search criteria. This will pull search results from all groups, forums, ,threads, and users. Filter these results by using the tabs underneath the search bar.
How to start a thread

If you've searched for a topic and didn't find the information you were looking for and you'd like to start a new thread within a forum, use the "+ New" button in the upper right-hand corner to start a new thread. If you want to delete the thread you started, contact an admin and they can delete it for you.

How to reply to a thread

When you're within the thread, use the "Reply" button to respond to a thread.

How to upvote or downvote replies

When you're within the thread, use the ' ˆ ' and ' ˇ ' buttons to upvote or downvote a reply.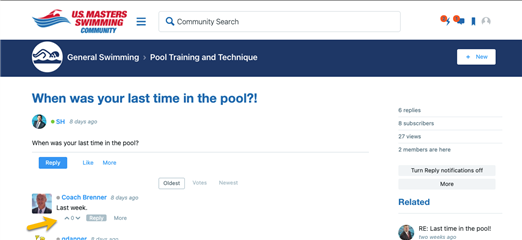 How to edit or delete your reply

Click "More," next to the reply button and select "Edit" or "Delete"

How to quote someone else's text in your reply

Highlight an existing text and select "Quote," to quote the highlighted text in the reply window.

How to subscribe to a forum and/or forum thread

From inside a forum, click the "Turn Forum Notifications On" button to subscribe to that forum and receive notifications. When you're within a forum thread, at the bottom of the post, click "More" and then select "Turn Reply Notifications On"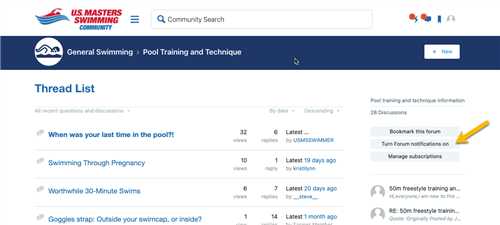 For more information on subscribing to threads or other notifications, see "How to manage Community digests, subscriptions, notifications and standard USMS emails?"
How to subscribe to a group (region, national volunteer committee) that I belong to

Within the group, click the "Email digest options" button. A modal will pop up, and you can also modify the frequency of notifications by selecting "Email digest options"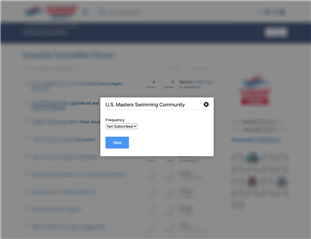 How to insert images/videos/files into a thread or reply

When you're within a thread post or reply, you add images/video/files by selecting "Insert."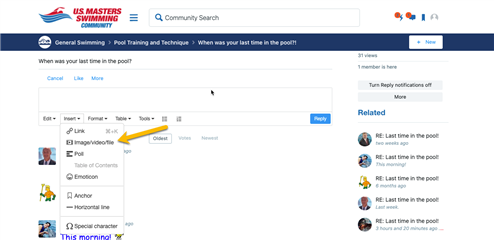 Images, videos, and files have size limitations.
How to mark a post as spam or abusive

If you find a thread or reply that violates the USMS Community Rules, you can report the post as abusive by clicking "More," next to the reply button, and select "Report as abusive"

What happens if I don't renew my USMS membership?

The USMS Community is a membership benefit. If you do not renew your USMS membership, you'll lose access to Community and won't be able to access your Community or My USMS accounts.