How to Manage my Profile
Managing my profile and settings

Within your profile, you will be able to edit both public and private information. The private information is also where you manage your USMS membership information. If you need to change your address, update your name, or change your phone number, you can do it here.
Within your settings page, you can edit your My USMS login credentials (email address and password), Community presence (what information you want publicly displayed), and communication preferences from the USMS Community.
Are my Community login credentials the same as my My USMS login?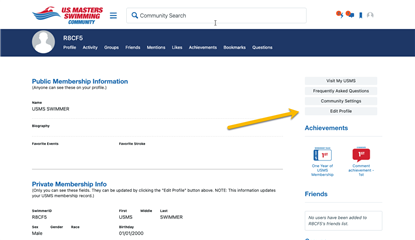 Note: Display names enable users to choose a name other than their username to be displayed with their posts and other content. These names do not need to be unique. It can take a while before display names are viewable. In some cases, values attached to older posts will not be updated unless a new post is made or the older post is updated.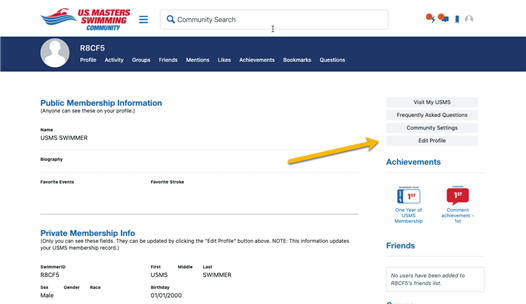 How to edit my USMS membership information

While logged into Community, you can edit your name, address, gender identity, race, phone number, and indicate if you have coaching or other specific swimming interests. (How to edit my My USMS email address

is below

)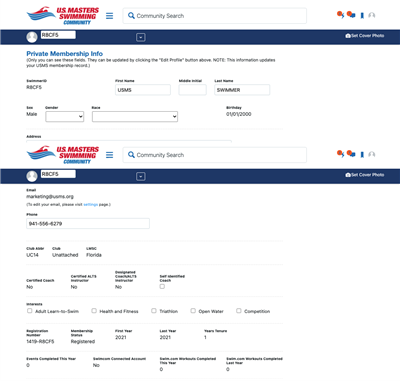 How to adjust my club affiliation

You cannot adjust your LMSC and club affiliation as there are rules surrounding club transfers. contact membership@usmastersswimming.org or your LMSC Membership Coordinator if you'd like to facilitate a club transfer.
How to edit my My USMS email address

You can change your email address through your profile, which will bring you to your Community settings page. This email address is what you will log in to your My USMS and USMS Community with and will be the primary source of contact with USMS. Once you update your email address, your old and new email will receive email notifications alerting you of this change. If you get email alerting you of a change but you didn't make a change, contact membership@usmastersswimming.org.

To manage your contact preferences, see "How to manage Community digests, subscriptions, notifications and standard USMS emails?"
How do achievements work?

Community-based achievements (comment and thread achievements) are awarded instantaneously. Non-Community-based achievements (membership tenure, event participation, Swim.com workouts, coach/instructor achievements) will be awarded the next time you log into the USMS Community.
Community shows that I am online. Can I adjust that?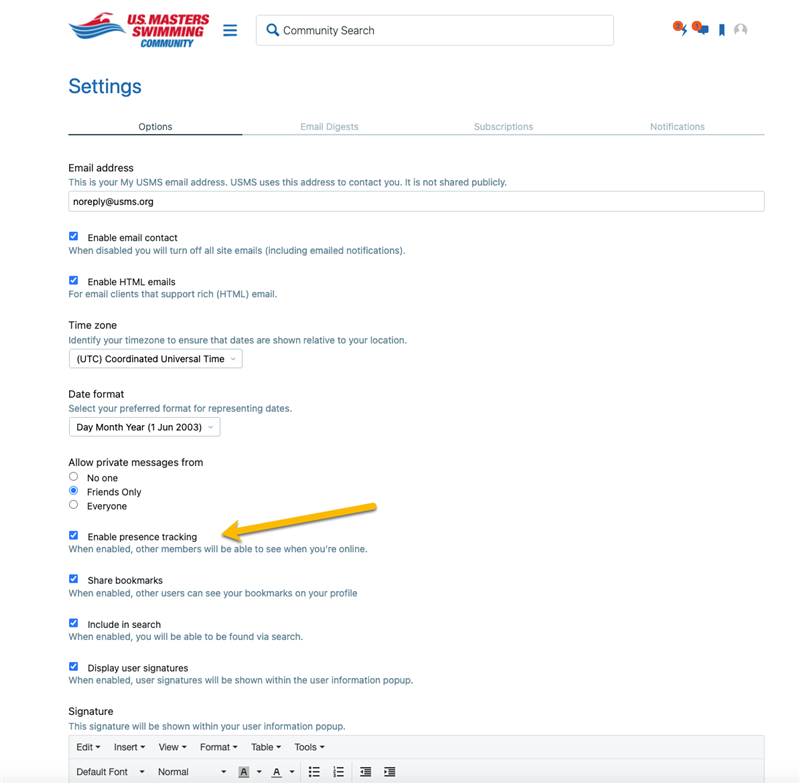 My activity shows on the main feed of USMS Community. How can I adjust that?